Street Rod Round-Up (JUN / JUL 2016)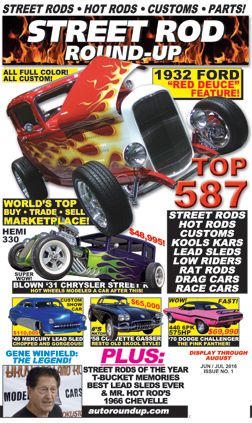 Street Rod Round-Up (JUN / JUL 2016)
Street Rod Round-Up (JUN / JUL 2016)
The Hobby's Premier Street Rod-Dedicated Auto-Trade Magazine Highlights the Nation'sTop Street Rods, Hot Rods, Custom Cars & Parts For Sale, Editorials and more!
World's Top Buy-Trade-Sell Marketplace for Street Rods & Customs.  Includes the country's top 587 Street Rods, Hot Rods, Customs, Kool Kars, Lead Sleds, Low Riders, Rat Rods, Drag Cars, and Race Cars! 

Also Includes:
Gene Winfield:  The Legend!
Street Rods of the Year
T-Bucket Memories
Best Lead Sleds Ever
Mr. Hot Rod's 1966 Chevelle
Our Top 10 Most Influential Customs of All-Time
Events Listings
Newly-Added Parts Section
Order your copy today.  Limited-time supply.