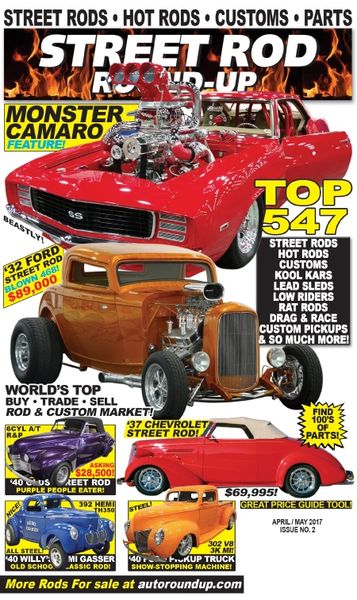 Street Rod Round-Up 2017
Street Rod Round-Up 2017
Creativity is officially defined as "the use of the imagination or original ideas, especially in the production of an artistic work."
That is why Street Rod Round-Up is one of our favorite magazines to publish.  The beefed-up engines, crazy modifications and the endless, spectacular paint jobs on these rides are incredibly awesome to dream of owning one day.
We have selected what we feel are the hobby's current Top 4XX street rod vehicles for sale, including everything from real street rods like pre-1949 automobiles (which is subject to much debate, see Video Bob's feature inside), hot rods, custom cars, kustom kool kars, lowriders, rat rods, drag cars, race cars and pretty much anything else you can imagine or not imagine in this wild culture we all share.  Street Rod Round-Up is a tribute to this crazy part of the hobby.
Inside you will find some of the best deals in our hobby that we have "rounded-up" for you, a newly-added parts and miscellaneous section, upcoming event listings, vendor's display ads (please patronize our good friends and customers who made this issue possible) and never-before-seen feature articles from some of the best collector car journalists in the world, including the very popular and nostalgic car enthusiast Bob "Video Bob" Huff, drag-racing legend Greg Zyla, classic car connoisseur Jerry Sutherland and street rod and custom car expert Mark C. Bach!
We hope that the love we share of everything custom and rod is fully represented in this commemorative collector's edition and that you look forward to next year when this annual publication returns.
~Shaun Smith, Vice President and Assistant Publisher