Garage Signs Value Package J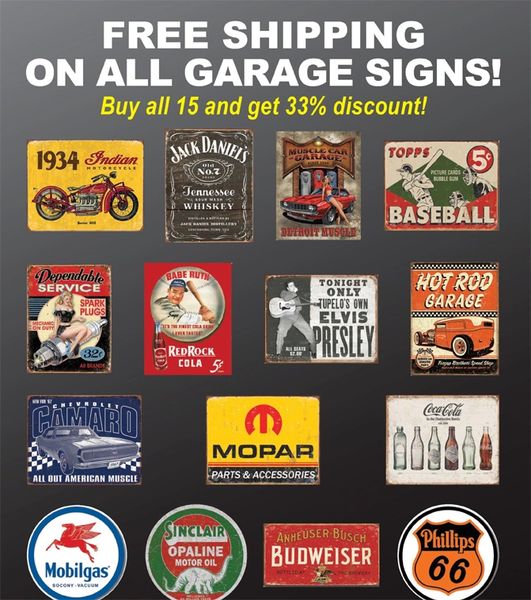 Garage Signs Value Package J
Garage Signs Value Package "J" - 33% DISCOUNT!

These vintage metal signs are perfect for anyone's man cave!  These are made of tin metal and come with a quality finish that you can proudly display in your garage, man cave or your home office.  These are a perfect for any car guys.  SAVE 33% OFF regular rates by purchasing this entire package of 15 collectible garage signs.  This genuine assortment of authentic "Americana" can bring to life your home, garage, work area or man cave with a rugged nostalgic theme.
MAKES A GREAT GIFT!!!

Assortment Includes
1934 Indian Motorcycles

Jack Daniel's Old No. 7 Tennessee Whiskey
Muscle Car Garage - Detroit Muscle
Topps Baseball Cards 5-cents

Dependable Service

Babe Ruth Red Rock Cola
Elvis Presley
Hot Rod Garage
1967 Camaro
MOPAR Parts & Accessories
Coca-Cola Evolution
Mobilgas
Sinclair Opaline Motor Oil
Anheuser-Busch Budweiser
Phillips 66
***Note:  assortment is subject to change based on availability***
Dimensions on most signs are 12.5"Wx16"H (but may vary on some items).