Garage Signs Package Deal M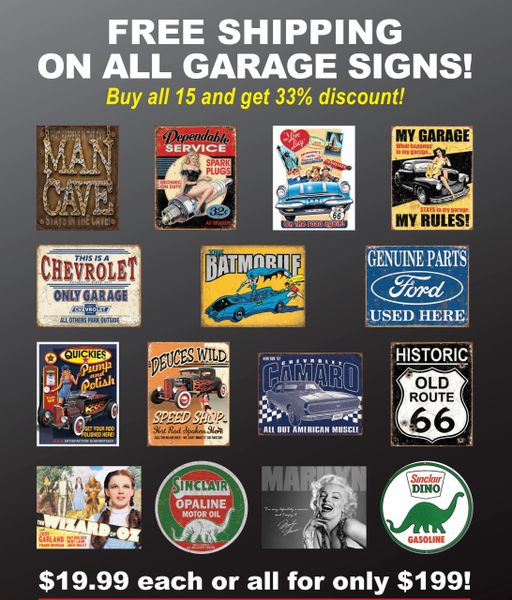 Garage Signs Package Deal M
Garage Sign Package Deal (M) - Get a 33% Discount!

This nostalgic assortment of awesome high-quality tin metal signs can be yours for a huge discount.  Included are 15 total vintage signs that make the perfect addition of decor for your garage or man cave or where ever you are allowed to display them! 
Vintage Sign Package Includes the Following:
•  Man Cave - "What Happens In The Man Cave, Stays In The Man Cave!"
•  Dependable Service Spark Plugs

•  I Love Lucy - Route 66 On The Road Again

•  My Garage My Rules! - "What Happens in the Garage, Stays in the Garage"

•  Chevrolet ONLY Garage - All Others Outside

•  The Batmobile by DC Comics

•  Ford Genuine Parts Used Here

•  Quickies Pump & Polish - "Get Your Rod Polished Here!"

•  Deuces Wild Speed Shop

•  1967 Chevrolet Camaro - All Out American American Muscle

•  Historic Old Route 66

•  The Wizard of Oz

•  Sinclair Opaline Motor Oil

•  Marilyn Monroe

•  Sinclair Dino Gasoline

Dimensions:  Rectangle or Square shaped signs are 12.5"Wx16"H and the circle shaped signs have a diameter of 11.75".

Assortment is subject to change based upon availability.