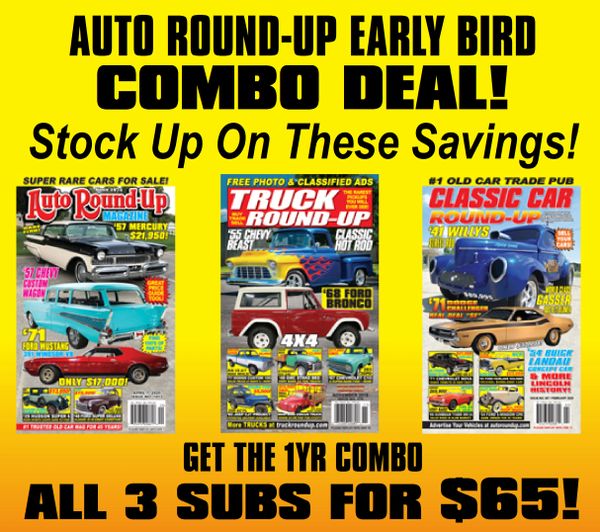 Early Bird Combo Deal
STOCK UP ON THESE SAVINGS!

Now is your chance to get all 3 of our main publications for one, low rate.  If you are bored, stuck at home, and love collector cars and trucks, then this is the PERFECT Combo Deal for you!  You will receive a grand total of 50 jam-packed issues of
Auto Round-Up
,
Truck Round-Up
and
Classic Car Round-Up
at a the low, introductory rate of ONLY $1.30 per issue!  WOW!!! 
It's like getting a present nearly every single week of the year!
Hurry, this offer WILL NOT LAST!  Below are the details. 

First issue ships in 4-6 weeks.
If you are a current customer to any of our magazines, your subscription will be extended.
Auto Round-Up is published bi-weekly for a total of 26 issues/yr, and Truck Round-Up and Classic Car Round-Up are published monthly for a total of 12 issues/yr.
Limit 1 per customer.  Customers cannot order multiple years for this deal.

Offer expires on 12/29/20.
(Note:  If you don't want the full Combo Deal, and would like to order just one or two of the subscriptions listed above, please call us at 304-884-6887 (M-F, 8AM - 4:30PM, EST) or mail us your order form to place your order).