Classic Chevy Round-Up (APR / MAY 2016)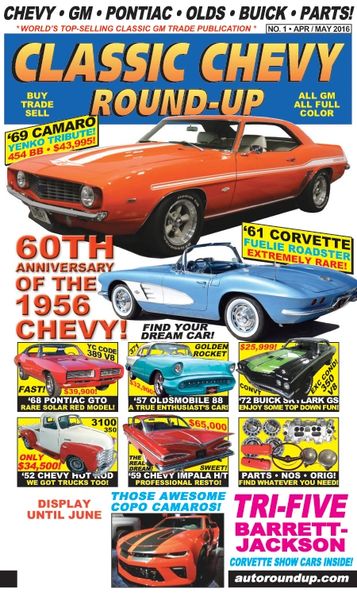 Classic Chevy Round-Up (APR / MAY 2016)
The Classic Car Hobby's premier Chevy Collectible Auto-Trade Magazine Highlights the Nation's  Top 2,000 GM Cars For Sale!
World's Top-Selling Classic GM Trade Publication features the nation's Top 2,000 GM Cars & Parts For Sale!  Find the best deals in the hobby and enjoy the appreciation of all things GM!

Also included:
60th Anniversary of the 1956 Chevy
Those Awesome Copo Camaros
Tri-Five Barrett-Jackson & Corvette Show Cars
Classic Trucks Featured as Stamps
Newly-Added Parts Section
Events Listings and More!
Order your copy today while supplies last!