Chevy Trade Round-Up 2018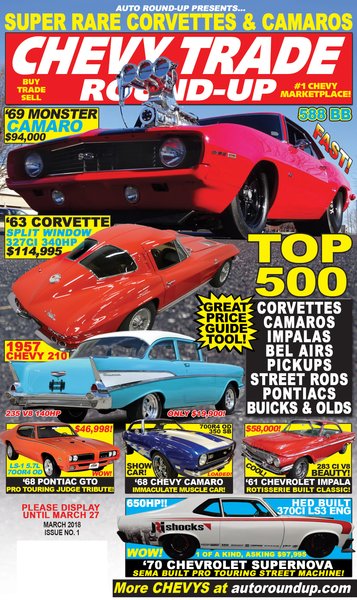 Chevy Trade Round-Up 2018
Chevy Trade Round-Up 2018

Welcome back to another great annual issue of Chevy Trade Round-Up! For those of you who have followed us over the past few years, you may remember that the name of this publication was Classic Chevy Round-Up. This is the same great magazine, just a different and more appealing name. This issue kicks off the first of six (6) great Special Issues we will launch throughout the year, so keep checking in with our regular publications or our website for new releases.
We have selected what we feel are the classic car hobby's current Top 500 General Motors vehicles for sale, including everything from Chevrolet and GMC to Cadillac and Pontiac as well as Oldsmobile and Buick.
Inside you will find some of the best deals in our hobby that we have "rounded-up" for you, a newly-added parts and miscellaneous section, upcoming event listings, and never-before-seen feature articles from some of the best Chevrolet journalists in the world, including drag-racing legend, historian and journalist Greg Zyla, collector car guru Jerry Sutherland and the world-famous classic car journalist on everyone's reading list—Mark C. Bach!