2022 Special Issue Subscription Package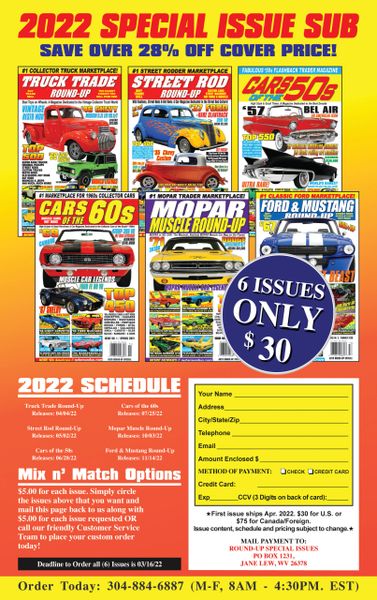 2022 Special Issue Subscription Package
Due to popular demand, the greatest collection of collector car and truck magazines will be back again and subscriptions are available to order for 2022. Get the remaining 6 Issues for ONLY $30!  SAVE nearly 30% Off Cover Price!
You can now mix & match which issues you want. If you do not want all remaining Issues, you can a la carte for $5/ea.  Call us at 304-884-6887 (M-F, 8AM - 4:30PM, EST) to place your custom order today!  Note, you must call your order in to mix & match!
Makes a great gift!
2022 Special Issues Lineup:
CHEVY TRADE ROUND-UP - DEADLINE CLOSED
MUSCLE CAR ROUND-UP - DEADLINE CLOSED
TRUCK TRADE ROUND-UP - Releases 04/04/22
STREET ROD ROUND-UP - Releases 05/03/21
CARS OF THE 50s - Releases 06/28/22
CARS OF THE 60s - Releases 07/25/22
MOPAR MUSCLE ROUND-UP - Releases 10/03/22
FORD & MUSTANG ROUND-UP - Releases 11/14/22
Each Issue Features:
100 Full Color Pages

Marketplace featuring the industry's TOP 500 vehicles and parts for sale relating to issues highlighted above

Never-before-seen feature articles showcasing the hobby's best stories and profiles

Parts Resource Guide

Price Guide Tool

Events Listings

Classifieds

And much, much more!
Don't miss out, order today!!!
***Note = Issue Lineup Subject to Change***