2021 Special Issue Subscription Package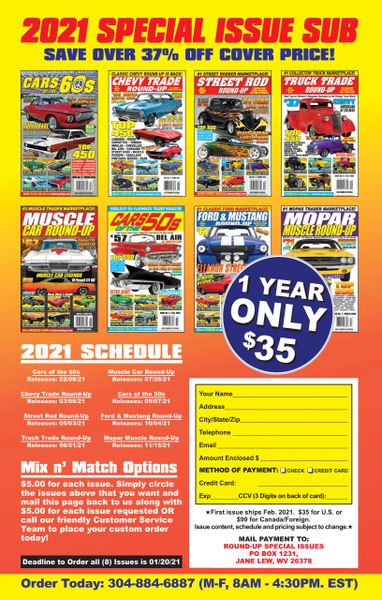 2021 Special Issue Subscription Package
SAVE 37% Off Cover Price!

Due to popular demand, the greatest collection of collector car and truck magazines will be back again and subscriptions are available to order for 2021. Get remaining 7 Issues for ONLY $35! 

You can now mix & match which issues you want. If you do not want all remaining Issues, you can a la carte for $5/ea.  Call us at 304-884-6887 (M-F, 8AM - 4:30PM, EST) to place your custom order today!  Note, you must call your order in to mix & match!
2020 Special Issues Lineup:
CARS OF THE 60s - Releases 02/08/21 - Deadline Closed

CHEVY TRADE ROUND-UP

-

Releases 03/08/21
STREET ROD ROUND-UP - Releases 05/03/21
TRUCK TRADE ROUND-UP - Releases 06/01/21
MUSCLE CAR ROUND-UP - Releases 07/26/21
CARS OF THE 50s - Releases 09/07/21
FORD & MUSTANG ROUND-UP - Releases 10/04/21
MOPAR MUSCLE ROUND-UP - Releases 11/15/21


Each Issue Features:
100 Full Color Pages
Marketplace featuring the industry's TOP 400-500 vehicles and parts for sale relating to issues highlighted above

Never-before-seen feature articles showcasing the hobby's best stories and profiles
Parts Resource Guide
Price Guide Tool
Events Listings
Classifieds
And much, much more!


Don't miss out, order today!!!
***Note = Issue Lineup Subject to Change***