Classic Truck Round-Up (Jan / Feb) 2017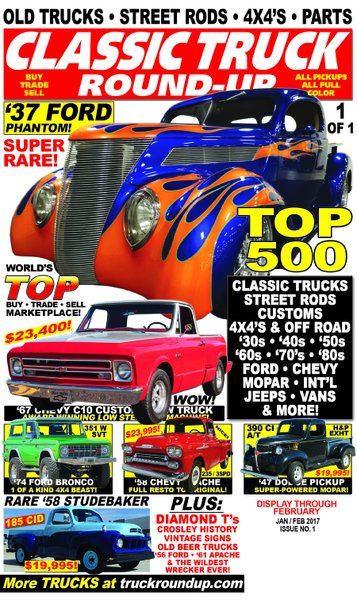 Classic Truck Round-Up (Jan / Feb) 2017
Classic Truck Round-Up 2017
The Classic Truck Hobby may not be quite as big as the Classic Car Hobby, but that doesn't mean our love for all things pickup isn't as big if not bigger. In fact, most of our team here enjoys working on our regular Truck Round-Up (monthly magazine) MORE SO than any of our car magazines that we publish.
So, we have selected what we feel are the classic truck hobby's current Top 500 Classic Trucks for sale, including everything from Antiques, Classics, Street Rods, Customs, El Caminos and Rancheros, Broncos, 4x4s, Jeeps, Vans and many other fun vehicles —a little bit of everything from every decade for you to enjoy!
Inside you will find some of the best deals in our hobby that we have "rounded-up" for you, a newly-added parts and miscellaneous section, upcoming event listings, vendor's display ads (please patronize our good friends and customers who made this issue possible) and never-before-seen feature articles from racing legend Greg Zyla, well-known truck enthusiast Bob "Video Bob" Huff, renowned Canadian pickup connoisseur Jerry Sutherland, national petroliana expert John Pizzo and one of the best collector truck journalists in the world—the celebrated Mark C. Bach!
We hope that the love we share of everything related to Classic Trucks is fully represented in this commemorative collector's edition and that you look forward to the day this annual publication returns. And, if you can't wait until next year's issue, you can always subscribe to our monthly magazine,
Truck Round-Up
additionally so that you don't miss out on any deals throughout the coming year.
~Shaun Smith, Vice President and Assistant Publisher