Classic Chevy Round-Up (Feb / Mar) 2017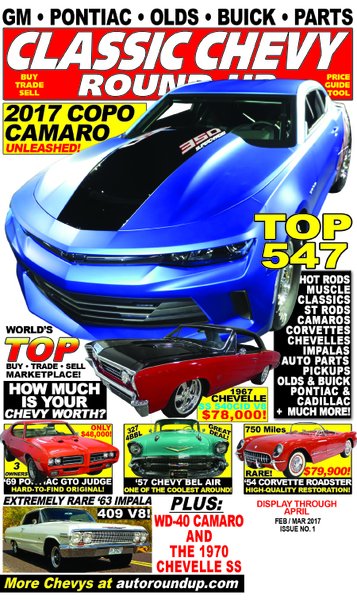 Classic Chevy Round-Up (Feb / Mar) 2017
Classic Chevy Round-Up (Feb / Mar) 2017
Over the course of human history, General Motors and all of its core brands have created some of the greatest and most beautiful cars on the planet. If you are a Chevrolet Enthusiast like we are, then you are in for a huge surprise as we introduce our latest and greatest Premier Special Issue—Classic Chevy Round-Up!
We have selected what we feel are the collector car hobby's current Top 547 GM vehicles for sale, including Hot Rods, Muscle Cars, Classic Cars, Street Rods, Camaros, Corvettes, Chevelles, Impalas, Pickups, Oldsmobiles, Buicks, Pontiacs, Cadillacs and so much more—just a little bit of everything from nearly every decade for you to enjoy!
Inside you will find some of the best deals in our hobby that we have "rounded-up" for you, a newly-added parts and miscellaneous section, upcoming event listings, vendor's display ads (please patronize our good friends and customers who made this issue possible) and never-before-seen feature articles from some of the best collector car journalists in the world, including the very popular and nostalgic car enthusiast Bob "Video Bob" Huff, drag-racing legend Greg Zyla, classic car connoisseur Jerry Sutherland and collector and muscle car expert Mark C. Bach!
On the cover is a 2017 COPO Camaro that was photographed at the 2016 SEMA Show by the extraordinary Mark C. Bach.
We hope that the love we share of everything GM is fully represented in this commemorative collector's edition and that you look forward to the day this annual publication returns.
~Shaun Smith, Vice President and Assistant Publisher